P02
This little press (P02) will allow you to press on armature gears straight every time. The brass anvil holds the armature straight allowing the gear to be pressed on correctly.
Press armature gear holder and line up tool, (P08).
P05
JW'S (P05), JW'S Pro Drive Pinion and Driven Gear Press. This Press will press a Cluster Gear shaft into a new Driven Gear Straight. The screw holds the shaft straight while pressing it into the gear. Insert the shaft into a gear plate and press a Drive Pinion onto the shaft. The screw lets you slowly press the Drive Pinion Gear to the correct position.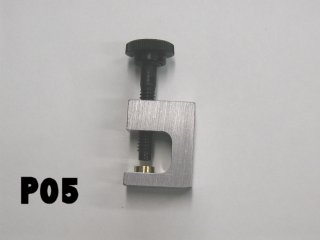 Back to Home Page!